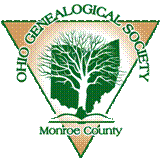 Welcome to the Monroe County Chapter of the




Ohio Genealogical Society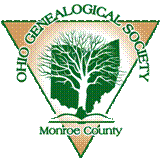 2022 Schedule of MCC-OGS
​
MCC-OGS meetings take place on the third Sunday of each month (except Jan., Feb., & Dec.) at 2:00 at the Monroe County District Library's meeting room.
Address:
96 Home Ave.
Woodsfield, OH 43793
Jan. & Feb. = No Meetings
Mar. 20
Apr. 17: EASTER - no mtng.
​
May 15
​
June 19: No mtng.
​
July 17
​
Aug. 1: DEADLINE for Lineage Society Applications
​
Aug. 21
​
Sep. 18: Lineage Societies Inductions
Oct. 16
​
Nov. 20
​
Dec. = No Meeting
Jan. 15: Annual Membership Fees are due
​
​
​
What's not to love about Monroe County's winding roads and summer scenery? You know you want to drive or ride this road.
"Time keeps on tickin', tickin', tickin'
into the future. . ."
Benefits of
Membership in
MCC-OGS
- 10% discount off the cost of publications
- Opportunity to become a member of our
First Families, Pioneer Families, and Kline/Cline Family lineage societies. *The annual application deadline is August 1st.
- BASIC research by an
MCC-OGS Volunteer.
- 1st hour FREE
- For IN-DEPTH research by an
MCC-OGS Volunteer, please contact us for hourly fee & other possible related expenses.
Click to send us an email.
​
​
~ Dancing with Ancestors ~




Come & explore your Monroe County genealogy
Genealogy Research Room Volunteers currently available to assist:
Thurs. & Fri: 10-4 p.m. or by appointment. kim4mccogs@gmail.com