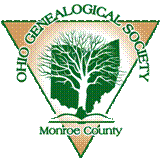 Welcome to the Monroe County Chapter of the
Ohio Genealogical Society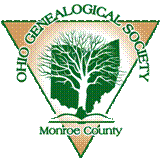 2020 Schedule of MCC-OGS Awesome Stuff
​
Jan. 19: Mtng. + Show & Tell
​
Feb. 16: Mtng. + Show & Tell
​
Mar. 13: Cancelled
Apr. 19: Cancelled
​
May 16: Cancelled
​
June 21: Cancelled
​
July 19: Mtng. & Taylor Abbott will talk about the restoration of the J.A. Cresap, the last boat built at the Clarington boatyard.
​
Aug. 16: Mtng. & Rodney Rufener will talk about the history of log houses in our area, and Karen Romick will share the story of her family home.
​
Sep. 20: Family Soc. Inductions
​
Oct. 16: Mtng. & Speaker TBA
​
Nov. 16: End-of-Year Mtng. &
Officer Elections
​
Dec.: NO Meeting
​
Jan. 15: Annual Membership Fees are due
Benefits of
Membership in
MCC-OGS
- 10% discount off the cost of publications
- subscription to our semi- annual periodical, The Navigator
- Opportunity to become a member of our First Families, Pioneer Families, and Kline/Cline Family lineage societies. *The annual application deadline is August 1st.
- 1 hour of free basic research by an MCC-OGS genealogy resource room volunteer
​
​
​
Click to send us an email.
​
​