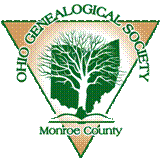 Welcome to the Monroe County Chapter of the




Ohio Genealogical Society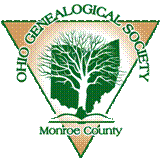 2021 Schedule of MCC-OGS
​
Every Other Month
Mar. 21: 2:00 Mtng. @ library Topic: new year status & changes
May 16: 1:00 @ the historic Jericho Church & Cemetery for a preservation event & dedication
​
July 18: 2:00 Mtng. @ library
Topic: New publication & Previous Publication storage & possible Inventory Reduction Sale
​
Aug. 1: DEADLINE for Lineage Society Applications
​
​
Sep. 19: Canceled due to sudden increase of Covid
​
​
Nov. 21: TBD
Jan. 15: Annual Membership Fees are due
​
​
​
​
MCC-OGS meetings take place at 2:00 at the Monroe County District Library's meeting room.
Address:
96 Home Ave.
Woodsfield, OH 43793
This beautiful and serene photo of the Ohio River was taken by Janet Conn from her home by the river. Janet is a river watcher and nature watcher like none I've ever known. She captures the moments of mostly overlooked beauty, the flow of the river and seasons, and the views that inspired the imaginations of our first inhabitants and early explorers --- the same views we can still see today.
26 Aug 2021
Dear Little Diary,
Publication News!! Our Cemetery Inscriptions for Center Twp. Vol. II featuring obits for many of the burials have arrived! This new book contains 409 pages of tombstone readings & index for the following cemeteries: Ayers-Cooper, Egger Rdg., Ford, Hope Rdg., Potts, Okey, St. Sylvester Catholic, and additions to the Infirmary Cemetery.
The price per book will be $25.00 + $5.00 shpg/hndg.
*Member discount & Ohio Tax apply. Please see our publication section for details and printable order form.
26 Aug 2021
​
ATTENTION: Due to the rapid increase in active Covid cases over the past two weeks, the September INDUCTION of our 2020 & 2021 Family Lineage Society members HAS BEEN CANCELED.
​
MCC-OGS book sales mgr., Karen Romick, has arranged for a new storage location for our many publications. If you are ordering books, please be patient as that process of moving, inventorying, and shelving books will take 2-3 weeks.
Benefits of
Membership in
MCC-OGS
- 10% discount off the cost of publications
- Subscription to our semi- annual periodical, The Navigator
- Opportunity to become a member of our First Families, Pioneer Families, and Kline/Cline Family lineage societies. *The annual application deadline is August 1st.
- Free basic research assistance by an MCC- OGS Volunteer.
*More in-depth research can be arranged thru a local, paid researcher.
​
Click to send us an email.
​
​
"Time keeps on tickin', tickin', tickin'
into the future. . ."
There is no longer a scheduled research volunteer at the library.
If you're visiting and need research assistance,
please email us to schedule an appointment
or call the library ahead to see if someone's in.
Have you recorded

your

"history" today?