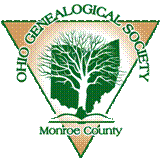 Welcome to the Monroe County Chapter of the
Ohio Genealogical Society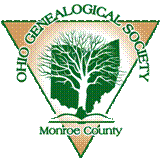 2021 Schedule of MCC-OGS
(Covid = TBD)
​
Jan. 17: NO MEETING
​
Feb. 21: NO MEETING
Mar.
​
Apr.
​
May
​
June
​
July
​
Aug. 1: Society Apps. Deadline
​
Aug.
​
Sep. : Lineage Societies Induction Ceremony: Covid Permitting
​
Oct. 16:
​
Nov. 16: End-of-Year Mtng. &
Officer Elections
​
Dec.: NO Meeting
​
Jan. 15: Annual Membership Fees are due
​
​
MCC-OGS meetings take place at 2:00 at the Monroe County District Library's meeting room.
Benefits of
Membership in
MCC-OGS
- 10% discount off the cost of publications
- Subscription to our semi- annual periodical, The Navigator
- Opportunity to become a member of our First Families, Pioneer Families, and Kline/Cline Family lineage societies. *The annual application deadline is August 1st.
- Free basic research assistance by an MCC- OGS Volunteer.
*More in-depth research can be arranged thru a local, paid researcher.
​
Click to send us an email.
​
​
15 February 2021
Dear Little Diary,
Praying for a better & healthier year!
Two new volumes for our Cemetery Inscriptions collection
for Center Twp. will be going to press soon.
In addition to our 2019 Pioneer Cemetery book, we will be publishing our Center Twp., Vol. II in Spring 2021. This book will include inscriptions and available obituaries and articles for the following cemeteries:
​
Ayers, Cooper (aka Kirkbride), Egger Ridge, Ford, Hope Ridge, additional Infirmary burials, Okey Farm, Potts, and St. Sylvester's.
15 February 2021
​
We are also finalizing Cemetery Inscriptions: Center Twp., Vol. III. It will be published in the early Fall 2021 and will include the following cemeteries:
​
Baker-Steed, Fairview Methodist, Gillespie, Gray (on Moose Ridge),
Hickenbotham, Moffett-Fletcher, "THE" Moose Ridge, Morris (on Moose Ridge), Mt. Carrick M.E., Neuhart Baptist, Valley (on Moose Ridge), and Winland.
Well, Diary, Until later~
"Time keeps on tickin', tickin', tickin'
into the future. . ."
There is no longer a scheduled research volunteer at the library.
If you're visiting and need research assistance,
please email us to schedule an appointment.
St. Joseph Catholic Church, SR-78, Burkhart
photo copyright 2018: Kim Schaber