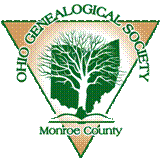 Welcome to the Monroe County Chapter of the




Ohio Genealogical Society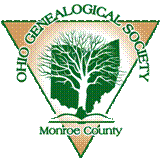 2021 Schedule of MCC-OGS
​
Every Other Month
Mar. 21: 2:00 Mtng. @ library Topic: new year status & changes
May 16: 1:00 @ the historic Jericho Church & Cemetery for a preservation event & dedication
​
July ?
​
​
Aug. 1: DEADLINE for Lineage Society Applications
​
​
Sep. : Lineage Societies Induction Ceremony
​
​
Nov. End-of-Year Mtng. &
Officer Elections
Jan. 15: Annual Membership Fees are due
​
​
​
​
MCC-OGS meetings take place at 2:00 at the Monroe County District Library's meeting room.
Address:
96 Home Ave.
Woodsfield, OH 43793
As we approach MEMORIAL DAY (formerly known as Decoration day), many of us may be visiting the graves of our ancestors. In doing so, you may discover coins placed on veterans' tombstones as a special tribute to fallen soldiers. If you do, please DO NOT REMOVE THOSE TRIBUTES. Here's why:
P = someone who stopped to pay respect
Nickel = someone who was in bootcamp with the veteran
Dime = someone who served with the soldier
Quarter = someone who was with the soldier when he or she was killed
26 May 2021
Dear Little Diary,
​
I think Americans are eventually moving passed the clutches of the Covid-19 virus and starting to venture out once again. We've had several family historians and researchers visiting our Genealogy Research Room at the Monroe County Dist. Library here in Woodsfield and calling or emailing to ask for research over the past two months.
The May 16th event honoring Susannah Buck Cline Evans at the historic Jericho Church & Cemetery was blessed with perfectly comfortable weather and about 45-50 descendants.
26 May 2021
​
You can see details and photos under the Lineage Society menu. Click on the Cline Family Society and follow the arrows.
Publication News!! We've just sent our next book of Center Twp. cemetery inscriptions and obits to the printer and expect books to be available for purchase by the end of June 2021. The price has not been decided yet, but the book contains 357 pages of readings for the following cemeteries: Ayers-Cooper, Egger Rdg., Ford, Hope Rdg., Potts, Okey, St. Sylvester Catholic, and additions to the Infirmary Cemetery.
​
Benefits of
Membership in
MCC-OGS
- 10% discount off the cost of publications
- Subscription to our semi- annual periodical, The Navigator
- Opportunity to become a member of our First Families, Pioneer Families, and Kline/Cline Family lineage societies. *The annual application deadline is August 1st.
- Free basic research assistance by an MCC- OGS Volunteer.
*More in-depth research can be arranged thru a local, paid researcher.
​
Click to send us an email.
​
​
"Time keeps on tickin', tickin', tickin'
into the future. . ."
There is no longer a scheduled research volunteer at the library.
If you're visiting and need research assistance,
please email us to schedule an appointment.