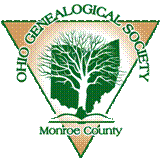 Welcome to the Monroe County Chapter of the
Ohio Genealogical Society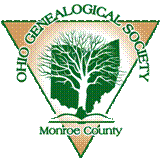 2020 Schedule of MCC-OGS Awesome Stuff
​
Jan. 19: Mtng. + Show & Tell
​
Feb. 16: Mtng. + Show & Tell
Mar. 13: Cancelled/Covid
Apr. 19: Cancelled/Covid
​
May 16: Cancelled/Covid
​
June 21: Cancelled/Covid
​
July 19: Business Mtng @ 2:00 @ Hollister-Parry Museum located on Eastern Ave.
​
Aug. 16: Cancelled/Covid
​
Sep. 20: Cancelled/Covid
​
Oct. 16: TBA ?
​
Nov. 16: End-of-Year Mtng. &
Officer Elections ?
​
Dec.: NO Meeting
​
Jan. 15: Annual Membership Fees are due
Benefits of
Membership in
MCC-OGS
- 10% discount off the cost of publications
- Subscription to our semi- annual periodical, The Navigator
- Opportunity to become a member of our First Families, Pioneer Families, and Kline/Cline Family lineage societies. *The annual application deadline is August 1st.
- Free basic research assistance by an MCC- OGS Volunteer.
*More in-depth research can be arranged thru a local, paid researcher.
​
Click to send us an email.
​
​
9 August 2020
Dear Little Diary,
It was nice to see the few people who were able to come to the July business meeting at the Hollister-Parry Museum. Sadly, we had to cancel our August MCC-OGS meeting & speaker.
We also discussed progress on a new Cemetery Inscriptions book and possible completion date & a second cemetery book and how we want to publish them.
We recently received a certificate recognizing Monroe County Genealogical Society's 35th Anniversary as a Chapter of the Ohio Genealogical Society! -- Definitely something worth celebrating~
​
August 2020
​
Congratulations to all our volunteers who do so much to continue our journey, and Thank you to all our members who support our organization, its mission and work.
Also, special thanks to our ancestors who are "yearning to be free" to share their stories. ---One thing though: it would have been nice if y'all had kept more journals, letters, labeled photographs and sketches for us to find. (Oh, and, it's a good thing you got here when you did!)
​
​
Well, Diary, that's all for now.
MCC-OGS is looking for a new location with easy access where we can store our publications that are for sale. If YOU have such a place, please contact us.
"Time keeps on tickin', tickin', tickin'
into the future. . ."
M.C. Library Reopens to Public Sept. 8th
*see upcoming events