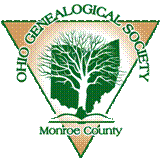 Welcome to the Monroe County Chapter of the
Ohio Genealogical Society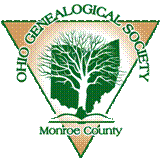 2020 Schedule of MCC-OGS Awesome Stuff
​
Jan. 19: Mtng. + Show & Tell
​
Feb. 16: Mtng. + Show & Tell
​
Mar. 13: Cancelled
Apr. 19: Cancelled
​
May 16: Cancelled
​
June 21: Cancelled
​
July 19: Business Mtng @ 2:00 @ Hollister-Parry Museum located on Eastern Ave.
​
Aug. 16: Mtng. & Rodney Rufener will talk about the history of log houses in our area, and Karen Romick will share the story of her family home.
​
Sep. 20: Family Soc. Inductions
​
Oct. 16: Mtng. & Speaker TBA
​
Nov. 16: End-of-Year Mtng. &
Officer Elections
​
Dec.: NO Meeting
​
Jan. 15: Annual Membership Fees are due
Benefits of
Membership in
MCC-OGS
- 10% discount off the cost of publications
- Subscription to our semi- annual periodical, The Navigator
- Opportunity to become a member of our First Families, Pioneer Families, and Kline/Cline Family lineage societies. *The annual application deadline is August 1st.
- Free basic research assistance by an MCC- OGS Volunteer.
*More in-depth research can be arranged thru a local paid researcher.
​
​
Click to send us an email.
​
​
4 June 2020
Dear Little Diary,
We had to cancel another MCC-OGS meeting today. We haven't had a meeting in so long! I hope our members and the public won't forget about us.
The library had to shut down in March due to this Covid19, so we don't get to see or meet new people researching their ancestors. I hope they find us on Facebook or this website. We have had lots of folks emailing for help though.
​
P.S. I think our ancestors are wondering where we are. Shhhh.
12 July 2020
​
Dear Little Diary,
The library is still closed so some of us are still doing
research from home for people who email us. We're also working on another Center Twp. Cemetery Inscriptions book to be printed a bit later this fall. (LOTS of cemeteries this time!)
Also, on the 19th, we're going to have our first business meeting since February! I can't wait to see people and tell them some new things.
​
P.S. My 16th great-g-ma Joan says, "Hello and God's speed."