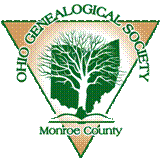 The Monroe County Map Department has just created this paper map of most of Monroe County's cemeteries. Their website offers many other helpful maps for folks tracking their ancesters' locations, but these maps will be helpful when folks are driving main roads and backroads and discover that Monroe County has lots of "dead space" where their cell phones and GPS are concerned.
Maps are available at the MC Courthouse or at the Genealogy Research Room in the MC District Library for only $2.00
​
If you would like us to mail a map to you, please send a check for $4.00/map to the address below.
Welcome to the Monroe County Chapter of the
Ohio Genealogical Society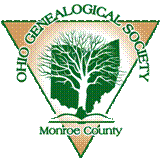 Thank you for visiting our website. We hope you'll discover new and interesting information about Monroe County, Ohio's history and the heritage of your ancestors.
​
If you would like to contact us for more research information or help, or to inquire about our publications or benefits of membership, please click on the "Contact Us" tab and use the email portal for a quick response.
​
​
Be sure to check our new publication available in late January, but open for orders-in-advance. Also, please take a moment to read our 2019 Holiday Newsletter or see our publications list.