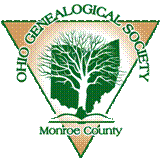 The Monroe County Map Department has just created this paper map of most of Monroe County's cemeteries. Their website offers many other helpful maps for folks tracking their ancesters' locations, but these maps will be helpful when folks are driving main roads and backroads and discover that Monroe County has lots of "dead space" where the I-net is concerned.
Maps are available at the MC Courthouse or at the Genealogy Research Room in the MC District Library for only $2.00
(This amt. covers the cost of printing.)
If you would be interested in attending this conference, we've copied the link below so you can check the OGS Conference site more easily.
​
Welcome to Monroe County Chapter, OGS
Let us help shine a light on your
Monroe County genealogy.