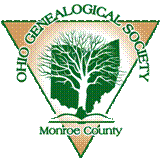 Welcome to the Monroe County Chapter of the




Ohio Genealogical Society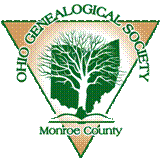 2022 Schedule of MCC-OGS
​
MCC-OGS meetings take place on the third Sunday of each month (except Jan., Feb., & Dec.) at 2:00 at the Monroe County District Library's meeting room.
Address:
96 Home Ave.
Woodsfield, OH 43793
Jan. & Feb. = No Meetings
Mar. 20
Apr. 17: EASTER - no mtng.
​
May 15
​
June 19: No mtng.
​
July 17
​
Aug. 1: DEADLINE for Lineage Society Applications
​
Aug. 21
​
Sep. 18: Lineage Societies Inductions
Oct. 16
​
Nov. 20
​
Dec. = No Meeting
Jan. 15: Annual Membership Fees are due
​
​
​
This "Field Full of Sunflowers" is a gift to your eyes and just one example of the rural scenery that decorates our countryside. Imagine what your ancestors saw!
(photo taken & shared by Mick Schumacher)
"Time keeps on tickin', tickin', tickin'
into the future. . ."
Benefits of
Membership in
MCC-OGS
- 10% discount off the cost of publications
- Opportunity to become a member of our
First Families, Pioneer Families, and Kline/Cline Family lineage societies. *The annual application deadline is August 1st.
- BASIC research by an
MCC-OGS Volunteer.
- 1st hour FREE
- For IN-DEPTH research by an
MCC-OGS Volunteer, please contact us for hourly fee & other possible related expenses.
Click to send us an email.
​
​
Presentation & Book Signing
​
Author Mark Haselberger, formerly of Woodsfield, Ohio, will be holding a presentation & book signing of his new book set Follow the Colors
from 1:00 to 3:00 pm on Monday & Tuesday, Oct. 17 & 18, 2022, at St. Paul's Church, 303 S. Main St. in Woodsfield.
​
Mr. Haselberger will present some background & excerpts of Follow the Colors, an extensively researched work of non-fiction and history of the men who served in the Union Army during the Civil War (1861-1865) in the regiments from Monroe County as well as many of the regiments from (West) Virginia. The 2-volume set looks into their trials & tribulations, their travels & adventures when they ventured as far away as Georgia and back.​
​
The set is available for purchase at this event. Price: approx. $90.00
​
Lost Towns of Monroe County
The Monroe County District Library (96 Home Ave., Woodsfield) will begin the first in a new Guest Speaker Series.
​
The first event will feature Joyce Wiggins, president of the Monroe County Historical Society, who will be presenting a talk about a few of the nearly 100 little towns and villages that once dotted the ridges and valleys of this county but has since disappeared. Whether the town names were Aitch, Altitude, Goodwin, Oak, Dairy, Jolly or Switzer, they were the centers of life for many early residents.
Although this talk will not be a comprehensive presentation of every "lost town", it will certainly raise interests about Monroe County's history, locations, and names that are the roots of many local families today.
​
At the conclusion of Mrs. Wiggins's presentation, the library will ask participants to fill out a quick survey to indicates what topics would be of interest for future presentations in this series. PLEASE PLAN TO ATTEND.
​
Click on the picture to enlarge